Currently Watching :: TOS By Any Other Name
1 Aug 2012 by admin,
Comments Off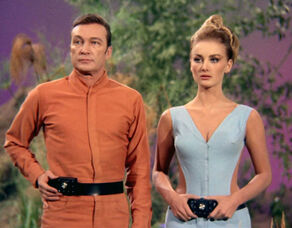 Here is the episode I most recently watched on my quest to watch every episode of Star Trek Ever Made.
Today's : By Any Other Name
This has all the qualities of a good episode of the original series.  Here's the premise: There is a distress signal sent out in the quadrant Kirk and his cronies are scouting.  Of course this is the season where the captains are all beaming down to away missions, so Kirk does his side-pose transport stance with Bones and a few Red-Shirts.
When they get down there, lo and behold the distress signal was just a ruse! (didn't see that coming) The people on the planet were actually from another galaxy all together! BOOSH… but they took human f
orm for some reason… probably cuz Paramount ran out of make-up budget. Any way a Red Shirt dies and everyone discovers that these aliens have the classic "Zack Morris Time Out" move. They simply press a button on their belt and the humans around them are frozen (no tag involved though.)
So these creatures, who appear to be simply attractive females and a guy or two in jumpsuits, take over the Enterprise and start zapping all the extras on the episode into little storage cubes.  However, we soon find out that the aliens are super advanced but they've never touched, eaten food, drank alcohol, or had feelings… oh the groping, gluttonous, drunken, emotional crew of the Enterprise fixed all that.  I'll save you the details but basically Scotty got a guy drunk and Kirk seduced an Alien to save the Enterprise.  The cubes were turned back into the extras, and Scotty was hangover-free. I was not disappointed at all.
You seen this one? Think it sucks? Think I'm Crazy? Or am I onto something you want to join? Leave a Comment.
Tags: ETN, quest, science fiction, star trek, the original series